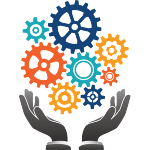 Working smarter not harder frees up valuable time to dedicate on new projects.
Brecht and Scott talk about getting their processes optimized for automation and how automation will optimize your processes.
Once you're optimized you have more time for new tasks/ideas and Brecht & Scott talk about timelines and good practices for getting solid results.
Stuff:
The following two tabs change content below.
Brecht Palombo
Brecht is the founder and owner of distressedpro.com a real estate Saas app and training business. He's traveling the US full-time with his family of 5. He's the cohost of BWK.
Latest posts by Brecht Palombo (see all)