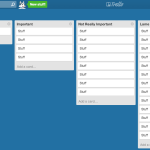 Each day, everyday, we think up more things to do. Write a blog post, paint the house, clean the bathroom, re-work the sales page, change the colors, add more analytics… When does it stop?
It never stops.
You are a creator, a thinker, you can see a better way and you can make plans to get there.
But are they all important? What if you only had 3 hours a day to do everything you need to do to pay the bills?
In this episode, Brecht shares parts of his new workflow, and how he's getting it done from a tin-can in Lord knows where, in about 3 hours a day. Also, updates on Brecht's academy, and Scott's work with Blackfin Media.
Stuff:
The following two tabs change content below.
Hi! I'm a dad who is working to achieve financial freedom. If you want to know more about me you can check out
my personal website
or drop me a line at scott@bootstrappedwithkids.com.
Latest posts by Scott Yewell (see all)