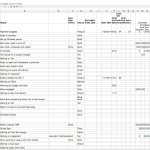 It's an oft quoted mantra of bootstrappers… "If you want to find ideas for customs apps to build, find out where businesses use spreadsheets".
On the one hand, spreadhsheets are a gift of the gods when it comes to rapid prototyping. On the other, they often turn into huge festering masses of cross workbook links and unintentionally obfuscated formulas. You should use them for the former, and you should look for ideas in the latter.
In this super exciting episode, Scott discusses the tracking spreadsheet he's built to analyze and manage Blackfin, and Brecht gives updates from the road. And stick around 'till the end to hear some serious magic from Brecht!
The following two tabs change content below.
Hi! I'm a dad who is working to achieve financial freedom. If you want to know more about me you can check out
my personal website
or drop me a line at scott@bootstrappedwithkids.com.
Latest posts by Scott Yewell (see all)