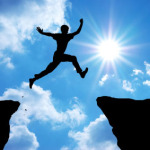 You have a job and it's paying the bills. Maybe it's even more than paying the bills, you are making really good money!
Your family is taken care of, you have good healthcare, all of your kids needs are taken care of, and you have money left over to invest. You can even go out on a couple date nights a month! Life is good!
Except… you know this isn't the job for you.
You know you're done with it.
You will never achieve your life goals in this job.
In this job, you work for someone else, you live by their rules, you focus on their priorities…
And then it happens, you see what may be THE OPPORTUNITY to make THE LEAP! But should you?
This week, over a terrible phone connection, Brecht and Scott field a listener question about whether, and how, to make the leap. We both come at this from different angles, but at the end, we offer up something of a framework (very casual of course) to work through this issue.
The following two tabs change content below.
Hi! I'm a dad who is working to achieve financial freedom. If you want to know more about me you can check out
my personal website
or drop me a line at scott@bootstrappedwithkids.com.
Latest posts by Scott Yewell (see all)