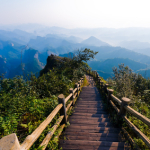 Life happens to us.
You grow up, start exerting your independence, push away from your parents and leap into the big world. And it's friggin big and overwhelming. So you cling to defined paths.
Maybe you go to college, maybe you take a job.
You unintentionally follow the guideposts and examples around you, trying to get a grasp on "life"… Hopefully you end up somewhere good.
But what if you lived intentionally? Who made those guideposts anyway? What if there's a better fit somewhere else?
In this episode we touch on Brecht's family's plan to live intentionally, discover alternatives, and pick from a broader palette of possibilities. Also Scott talks about his recent experience in Brennan Dunn's Consultancy Masterclass.
Stuff
The following two tabs change content below.
Hi! I'm a dad who is working to achieve financial freedom. If you want to know more about me you can check out
my personal website
or drop me a line at scott@bootstrappedwithkids.com.
Latest posts by Scott Yewell (see all)