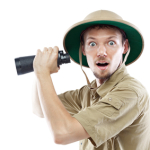 They happen in between times where we see nothing but the next step in front of us. You pop your head up, maybe with the help of a an expert point of view, and you see it! There is is, where you want to go!
But you can't just stand there lolly-gagging… So you get back to work, and try to remember the right direction to get to that place.
In this episode Scott expresses the frustration of having learned what looks like a better way to operate the agency while having to fulfill on the business as it is today. Also, Brecht shares deep thoughts that I can't recall at the moment… 🙂
The following two tabs change content below.
Hi! I'm a dad who is working to achieve financial freedom. If you want to know more about me you can check out
my personal website
or drop me a line at scott@bootstrappedwithkids.com.
Latest posts by Scott Yewell (see all)