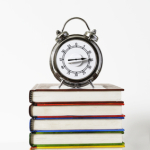 We're always feeling like we need more time to get things done.
If I only have another hour I'd get to the gym.
If I had another 10 minutes I'd get to inbox zero.
If I had another day I could catch up to my to do list.
Bullshit.
It's not an issue of time, it's priorities.
This week after Scott updates us all on the chaos of being over committed, Brecht maps out a couple ways in which he has become more productive with way less time.
Stuff:
The following two tabs change content below.
Hi! I'm a dad who is working to achieve financial freedom. If you want to know more about me you can check out
my personal website
or drop me a line at scott@bootstrappedwithkids.com.
Latest posts by Scott Yewell (see all)