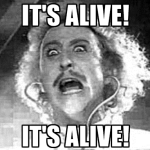 Just about this time last year Brecht and Scott killed CRELister and started on their rebound project Realty Motor. As our heroes delved deeper into this new business, they quickly realized it wasn't going to fly… as least not then.
Over the past couple of months, Brecht has been working to relaunch the business with a new partner. In this episode we revisit how we decided to part ways on the idea, and how Brecht is planning to relaunch it over the next months.
Stuff:
King Sumo Giveaways app: http://kingsumo.com/apps/giveaways/
Realty Motor revived: https://realtymotor.com/
The following two tabs change content below.
Hi! I'm a dad who is working to achieve financial freedom. If you want to know more about me you can check out
my personal website
or drop me a line at scott@bootstrappedwithkids.com.
Latest posts by Scott Yewell (see all)